Sand in my Veins
Sand in my Veins is a short documentary made by local film maker and Tennyson Dunes Group stalwart Nicholas Crouch. It was produced in 2006 and DVDs are available direct from Natural Perspectives.
Synopsis
Seen through the life of one man, Sand in my Veins explores Adelaide's very last remnant of coastal sand dunes. The last stronghold for Painted Dragons and Singing Honeyeaters, these dunes are now besieged by feral pests, inappropriate development, sea level rise, ignorance and vandalism.
It is a story of passion, fighting spirit and a struggle against the odds.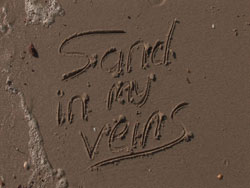 Sand in my Veins is available on the Natural Perspectives Vimeo Channel. You can watch it by clicking on the adjacent image.
About the Filmmaker
As a local film maker and long time volunteer of the Tennyson Dunes Group, Nicholas Crouch has made this personal documentary as a means to encourage all beach users to respect the dunes and the wildlife that live there.
His family moved to the area when he was three years old. Consequently he spent his childhood developing a passion for all things sand dune, which carried over to his formal education as a coastal ecologist. He is also currently studying a Masters in Natural History Film Making through the Flinders University of SA.
When not volunteering for environmental groups or making environmental films, Nicholas works as a TAFESA lecturer, teaching Environment and Sustainability at Urrbrae TAFE and Conservation and Land Management in Aboriginal communities throughout South Australia.
About the Presenters
Kerryn McEwan is a ground water specialist with CSIRO (the Commonwealth Scientific and Industrial Research Organisation). She is one of the Tennyson Dunes Group's founding members and volunteers much of her time caring for the area. Kerryn is particularly active controlling weeds and feral animals in an effort to restore the dunes' wildlife habitat. She especially takes exception to Bridal Creeper.
Brian Mason is a retired engineer and has been volunteering with the Tennyson Dunes Group for many years. He also coordinates activities at the dunes for the West Lakes Kiwanis, who have been instrumental in controlling rabbit numbers, maintaining fences, walkways, signage and building the viewing platform at the top of the dunes. Brian has seen first hand the changes the Tennyson Dunes have gone through over the past 50 years and works tirelessly to preserve what little remains.